Create a custom Android Toast
Websites to learn foreign languages for free: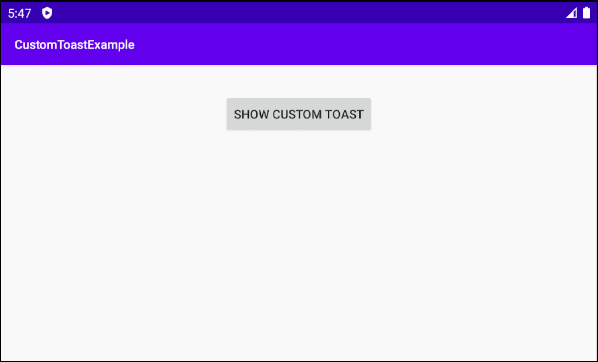 On Android Studio, create a project:
File > New > New Project > Empty Activity

Name: CustomToastExample
Package name: org.o7planning.customtoastexample
Language: Java
Then copy an icon (icon_info.png) into the folder drawable of the project.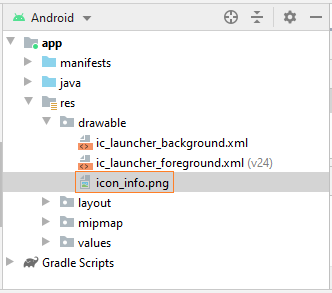 In this example, I'm going to use "Resource Layout File" to design the Toast interface. You can also create the Toast interface only by Java code (See more in the example).
First, right click on the folder "layout" and select:
New > Layout Resource File

File name: layout_custom_toast.xml
Root element: LinearLayout
Source set: main
Directory name: layout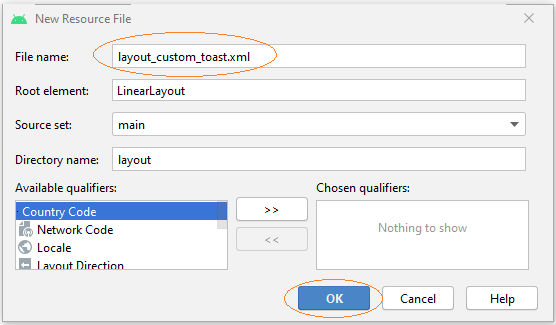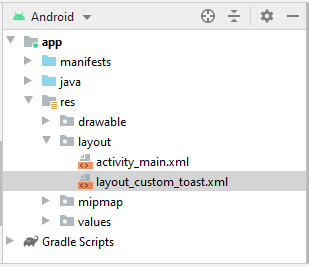 Now you can design your Toast interface.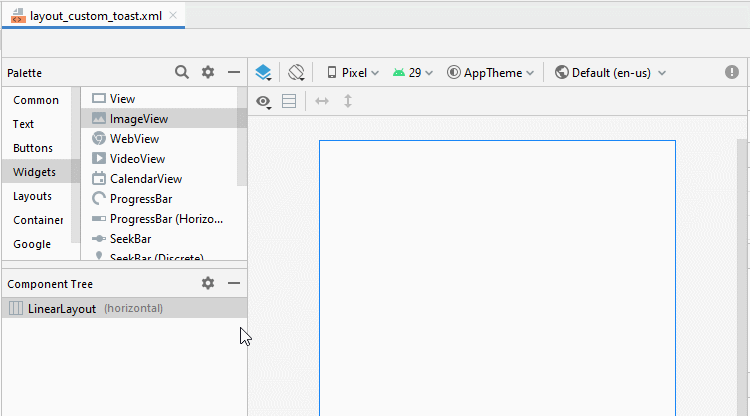 Next, set ID, Text, Padding and layout_weight for the components in the interface:

layout_custom_toast.xml

<?xml version="1.0" encoding="utf-8"?>
<LinearLayout xmlns:android="http://schemas.android.com/apk/res/android"
    xmlns:app="http://schemas.android.com/apk/res-auto"
    android:layout_width="match_parent"
    android:layout_height="match_parent"
    android:orientation="horizontal"
    android:padding="10sp">

    <ImageView
        android:id="@+id/imageView"
        android:layout_width="wrap_content"
        android:layout_height="wrap_content"
        android:layout_weight="0"
        android:paddingRight="10sp"
        app:srcCompat="@drawable/icon_info" />

    <TextView
        android:id="@+id/textView"
        android:layout_width="wrap_content"
        android:layout_height="wrap_content"
        android:layout_weight="1"
        android:text="Message" />
</LinearLayout>

And here is the main interface of the application:

activity_main.xml

<?xml version="1.0" encoding="utf-8"?>
<androidx.constraintlayout.widget.ConstraintLayout
    xmlns:android="http://schemas.android.com/apk/res/android"
    xmlns:app="http://schemas.android.com/apk/res-auto"
    xmlns:tools="http://schemas.android.com/tools"
    android:layout_width="match_parent"
    android:layout_height="match_parent"
    tools:context=".MainActivity">

    <Button
        android:id="@+id/button_show"
        android:layout_width="wrap_content"
        android:layout_height="wrap_content"
        android:layout_marginTop="32dp"
        android:text="Show Custom Toast"
        app:layout_constraintEnd_toEndOf="parent"
        app:layout_constraintStart_toStartOf="parent"
        app:layout_constraintTop_toTopOf="parent" />
</androidx.constraintlayout.widget.ConstraintLayout>

MainActivity.java

package org.o7planning.customtoastexample;

import androidx.appcompat.app.AppCompatActivity;

import android.graphics.Color;
import android.os.Bundle;
import android.view.LayoutInflater;
import android.view.View;
import android.widget.Button;
import android.widget.ImageView;
import android.widget.LinearLayout;
import android.widget.TextView;
import android.widget.Toast;

public class MainActivity extends AppCompatActivity {

    private Button buttonShow;

    @Override
    protected void onCreate(Bundle savedInstanceState) {
        super.onCreate(savedInstanceState);
        setContentView(R.layout.activity_main);

        this.buttonShow = (Button) this.findViewById(R.id.button_show);
        this.buttonShow.setOnClickListener(new View.OnClickListener() {
            @Override
            public void onClick(View v) {
                buttonShowClicked();
            }
        });
    }

    // Create Toast with "Resource Layout File".
    private void buttonShowClicked()  {
        LayoutInflater inflater = this.getLayoutInflater();

        View layout = inflater.inflate(R.layout.layout_custom_toast, null);
        // TextView in layout_custom_toast.
        TextView textView = (TextView) layout.findViewById(R.id.textView);
        textView.setText("This is a message");
        textView.setTextColor(Color.BLUE);
        // Create Toast
        Toast toast = new Toast(this);
        toast.setDuration(Toast.LENGTH_LONG);
        toast.setView(layout);
        toast.show();
    }

    // Create Toast without "Resource Layout File".
    private void buttonShowClicked2()  {
        LinearLayout layout  = new LinearLayout(this);
        layout.setOrientation(LinearLayout.HORIZONTAL);
        layout.setPadding(10,10, 10, 10);
        //
        ImageView imageView = new ImageView(this);
        imageView.setImageResource(R.drawable.icon_info);
        imageView.setPadding(0, 0, 10, 0);
        //
        TextView textView = new TextView(this);
        textView.setTextColor(Color.BLUE);
        textView.setText("This is a message");

        LinearLayout.LayoutParams params1 = new LinearLayout.LayoutParams(
                LinearLayout.LayoutParams.WRAP_CONTENT,
                LinearLayout.LayoutParams.WRAP_CONTENT,0);
        layout.addView(imageView, params1);

        LinearLayout.LayoutParams params2 = new LinearLayout.LayoutParams(
                LinearLayout.LayoutParams.WRAP_CONTENT,
                LinearLayout.LayoutParams.WRAP_CONTENT,1);
        layout.addView(textView, params2);

        // Create Toast
        Toast toast = new Toast(this);
        toast.setDuration(Toast.LENGTH_LONG);
        toast.setView(layout);
        toast.show();
    }
}