Android Text to Speech Tutorial with Examples
Websites to learn foreign languages for free:
Converting text into speech is a feature included in Android from API 21 which allows you to transfer a text to speech. It supports many different languages. To perform this function you need to use android.speech.tts.TextToSpeech class.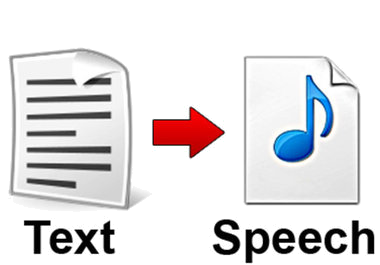 To Android API Level 23, these locales below will be supported:
en_US
de_DE
fr
es_ES
de
en
it_IT
it
en_GB
es
fr_FR
Create a project named TextToSpeechDemo: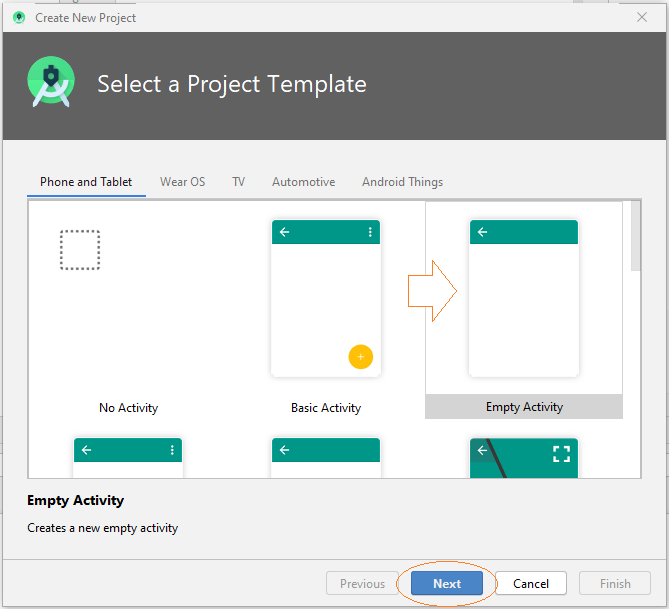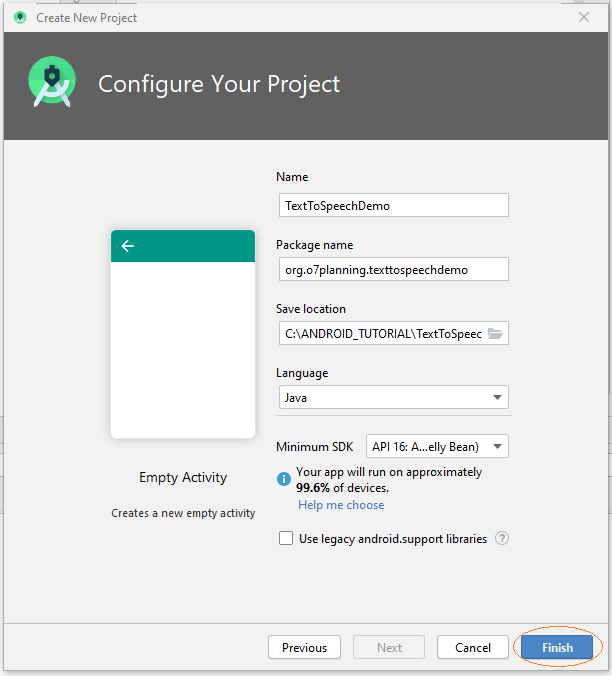 If you are interested in the design steps of this application interface, please see the appendix at the end of the article.
activity_main.xml

<?xml version="1.0" encoding="utf-8"?>
<androidx.constraintlayout.widget.ConstraintLayout
    xmlns:android="http://schemas.android.com/apk/res/android"
    xmlns:app="http://schemas.android.com/apk/res-auto"
    xmlns:tools="http://schemas.android.com/tools"
    android:id="@+id/ConstraintLayout"
    android:layout_width="match_parent"
    android:layout_height="match_parent"
    tools:context=".MainActivity" >

    <RadioGroup
        android:id="@+id/radioGroup"
        android:layout_width="0dp"
        android:layout_height="160dp"
        android:layout_marginStart="16dp"
        android:layout_marginLeft="16dp"
        android:layout_marginTop="16dp"
        android:layout_marginEnd="14dp"
        android:layout_marginRight="14dp"
        app:layout_constraintEnd_toEndOf="parent"
        app:layout_constraintStart_toStartOf="parent"
        app:layout_constraintTop_toTopOf="parent">

        <RadioButton
            android:id="@+id/radio_en"
            android:layout_width="match_parent"
            android:layout_height="wrap_content"
            android:text="English" />

        <RadioButton
            android:id="@+id/radio_fr"
            android:layout_width="match_parent"
            android:layout_height="wrap_content"
            android:text="France" />
    </RadioGroup>

    <EditText
        android:id="@+id/editText"
        android:layout_width="0dp"
        android:layout_height="49dp"
        android:layout_marginStart="18dp"
        android:layout_marginLeft="18dp"
        android:layout_marginTop="80dp"
        android:layout_marginEnd="17dp"
        android:layout_marginRight="17dp"
        android:ems="10"
        android:inputType="textPersonName"
        app:layout_constraintEnd_toEndOf="parent"
        app:layout_constraintStart_toStartOf="parent"
        app:layout_constraintTop_toBottomOf="@+id/radioGroup" />

    <Button
        android:id="@+id/button"
        android:layout_width="wrap_content"
        android:layout_height="wrap_content"
        android:layout_marginTop="88dp"
        android:text="Speak"
        app:layout_constraintEnd_toEndOf="parent"
        app:layout_constraintStart_toStartOf="parent"
        app:layout_constraintTop_toBottomOf="@+id/editText" />

</androidx.constraintlayout.widget.ConstraintLayout>

Min SDK Level
Text To Speech requires Android API Level> = 21 so you need to configure in build.gradle (Module: app) file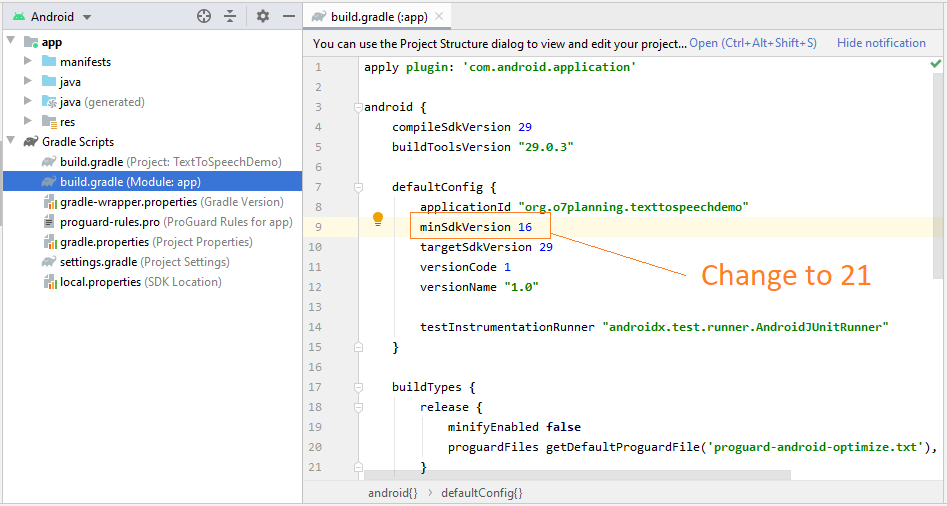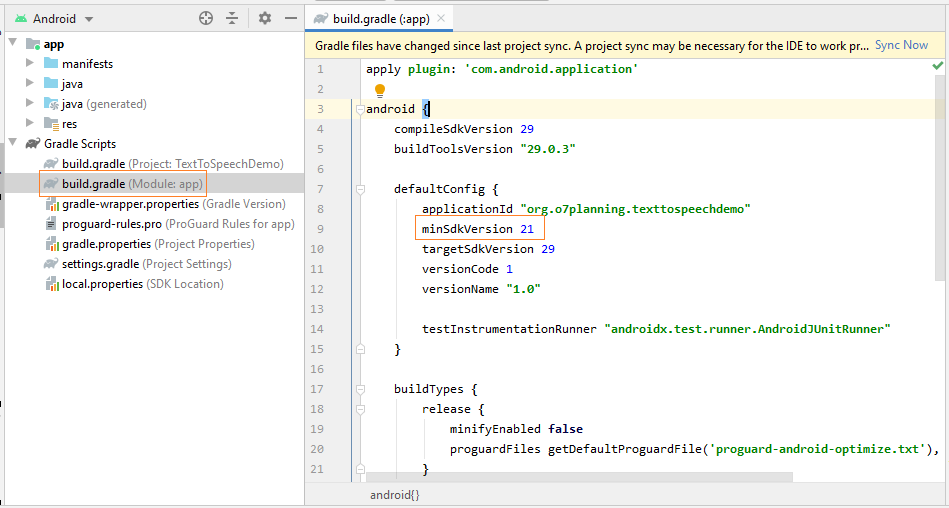 MainActivity.java

package org.o7planning.texttospeechdemo;

import android.app.Activity;
import android.os.Bundle;

import android.speech.tts.TextToSpeech;

import android.util.Log;
import android.view.View;

import android.widget.Button;
import android.widget.EditText;

import java.util.Locale;
import java.util.Set;
import java.util.UUID;

import android.widget.RadioButton;
import android.widget.RadioGroup;
import android.widget.Toast;

public class MainActivity extends Activity {
    private TextToSpeech textToSpeech;
    private EditText editText;
    private Button button;
    private RadioButton radio_en;
    private RadioButton radio_fr;
    RadioGroup radioGroup;

    private boolean ready;

    @Override
    protected void onCreate(Bundle savedInstanceState) {
        super.onCreate(savedInstanceState);
        setContentView(R.layout.activity_main);
        editText = (EditText) findViewById(R.id.editText);
        button = (Button) findViewById(R.id.button);
        radio_en = (RadioButton) findViewById(R.id.radio_en);
        radio_fr = (RadioButton) findViewById(R.id.radio_fr);
        radioGroup = (RadioGroup) findViewById(R.id.radioGroup);


        textToSpeech = new TextToSpeech(getApplicationContext(), new TextToSpeech.OnInitListener() {
            @Override
            public void onInit(int status) {
                Log.e("TTS", "TextToSpeech.OnInitListener.onInit...");
                printOutSupportedLanguages();
                setTextToSpeechLanguage();
            }
        });
        radioGroup.setOnCheckedChangeListener(new RadioGroup.OnCheckedChangeListener() {

            @Override
            public void onCheckedChanged(RadioGroup group, int checkedId) {
                setTextToSpeechLanguage();
            }
        });
        button.setOnClickListener(new View.OnClickListener() {
            @Override
            public void onClick(View v) {
                speakOut();
            }
        });
    }

    private void printOutSupportedLanguages()  {
        // Supported Languages
        Set<Locale> supportedLanguages = textToSpeech.getAvailableLanguages();
        if(supportedLanguages!= null) {
            for (Locale lang : supportedLanguages) {
                Log.e("TTS", "Supported Language: " + lang);
            }
        }
    }


    @Override
    public void onPause() {
        if (textToSpeech != null) {
            textToSpeech.stop();
            textToSpeech.shutdown();
        }
        super.onPause();
    }

    private void speakOut() {
        if (!ready) {
            Toast.makeText(this, "Text to Speech not ready", Toast.LENGTH_LONG).show();
            return;
        }
        // Text to Speak
        String toSpeak = editText.getText().toString();
        Toast.makeText(this, toSpeak, Toast.LENGTH_SHORT).show();
        // A random String (Unique ID).
        String utteranceId = UUID.randomUUID().toString();
        textToSpeech.speak(toSpeak, TextToSpeech.QUEUE_FLUSH, null, utteranceId);
    }

    private Locale getUserSelectedLanguage() {
        int checkedRadioId = this.radioGroup.getCheckedRadioButtonId();
        if (checkedRadioId == R.id.radio_en) {
            return Locale.ENGLISH;
        } else if (checkedRadioId == R.id.radio_fr) {
            return Locale.FRANCE;
        }
        return null;
    }


    private void setTextToSpeechLanguage() {
        Locale language = this.getUserSelectedLanguage();
        if (language == null) {
            this.ready = false;
            Toast.makeText(this, "Not language selected", Toast.LENGTH_SHORT).show();
            return;
        }
        int result = textToSpeech.setLanguage(language);
        if (result == TextToSpeech.LANG_MISSING_DATA) {
            this.ready = false;
            Toast.makeText(this, "Missing language data", Toast.LENGTH_SHORT).show();
            return;
        } else if (result == TextToSpeech.LANG_NOT_SUPPORTED) {
            this.ready = false;
            Toast.makeText(this, "Language not supported", Toast.LENGTH_SHORT).show();
            return;
        } else {
            this.ready = true;
            Locale currentLanguage = textToSpeech.getVoice().getLocale();
            Toast.makeText(this, "Language " + currentLanguage, Toast.LENGTH_SHORT).show();
        }
    }


}

Running apps: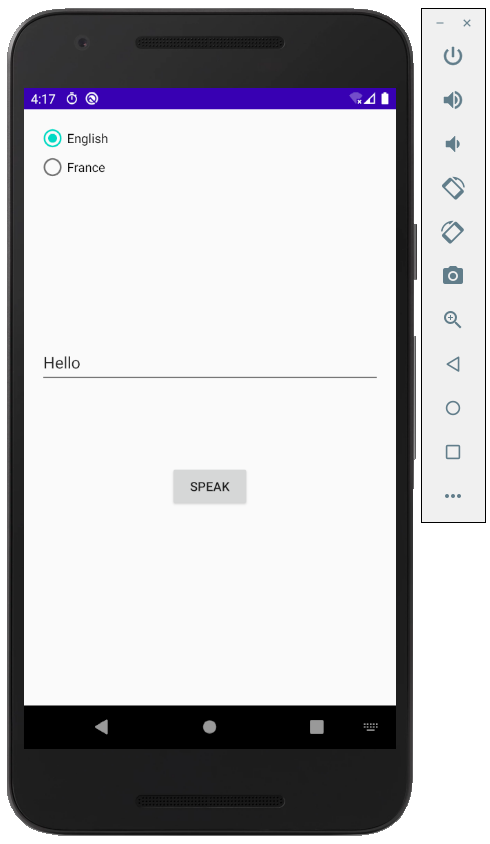 interface design:
Add RadioGroup: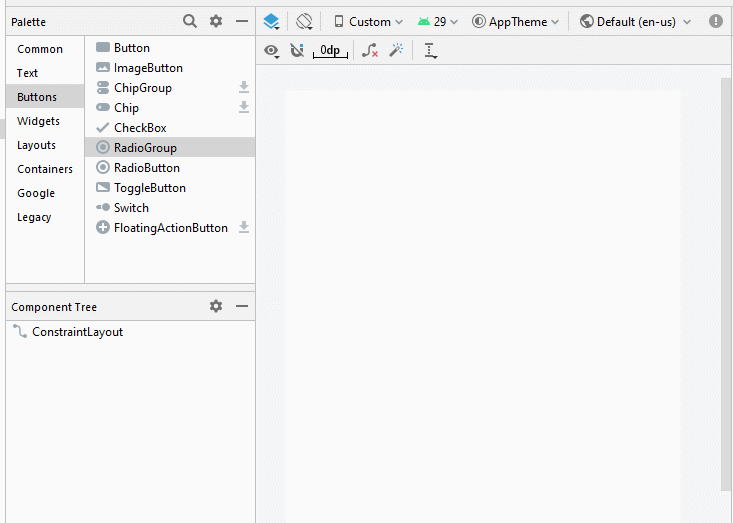 Set Layout for RadioGroup: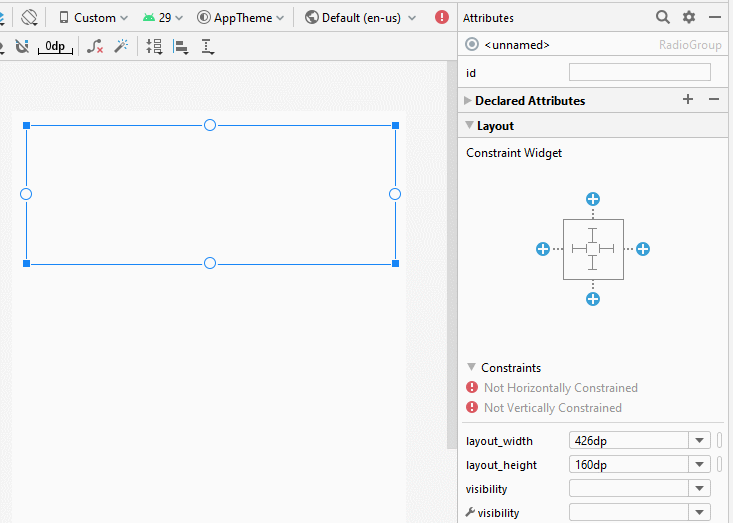 Add 2 RadioButton: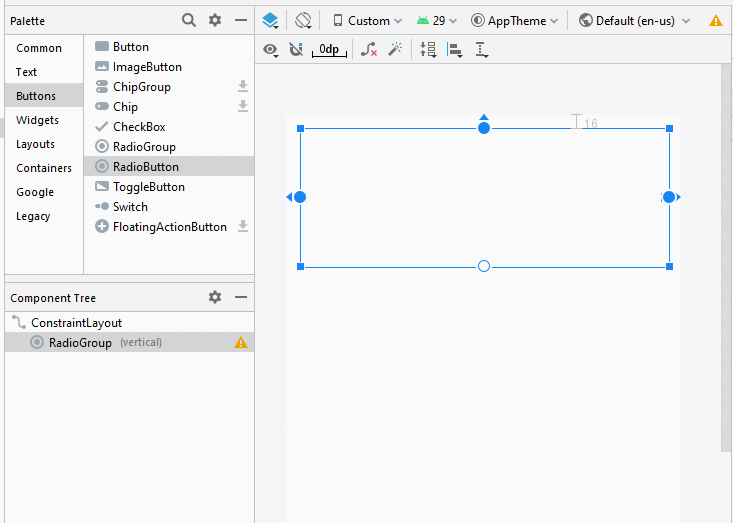 Add a PlainText: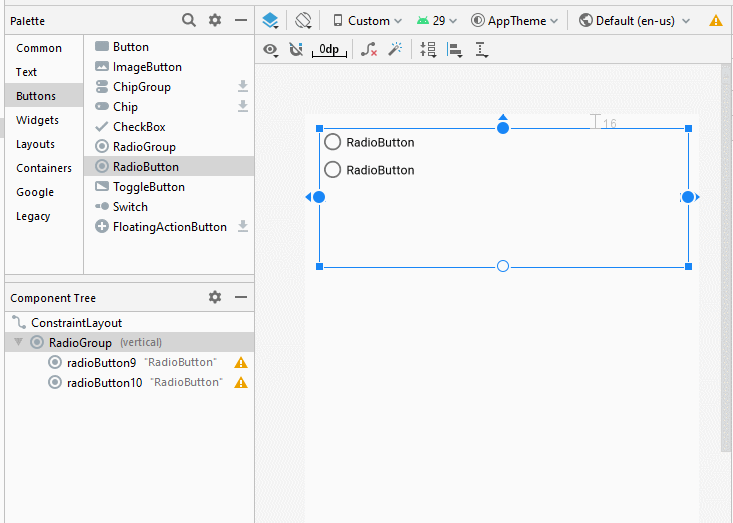 Set Layout for PlainText: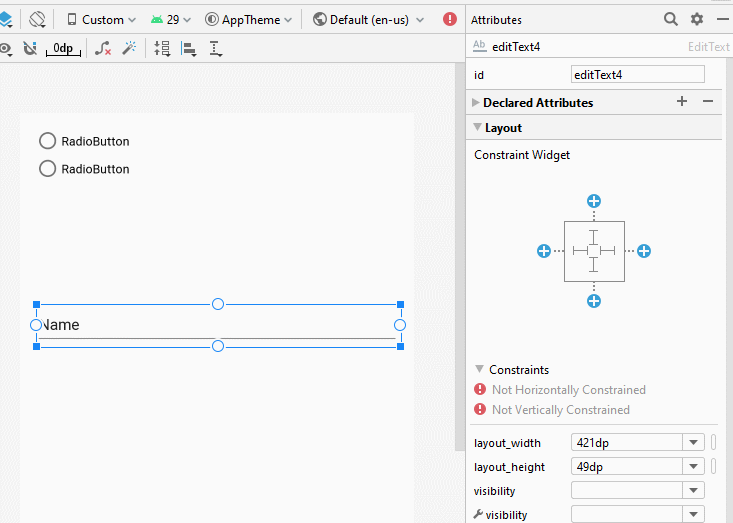 Add a Button: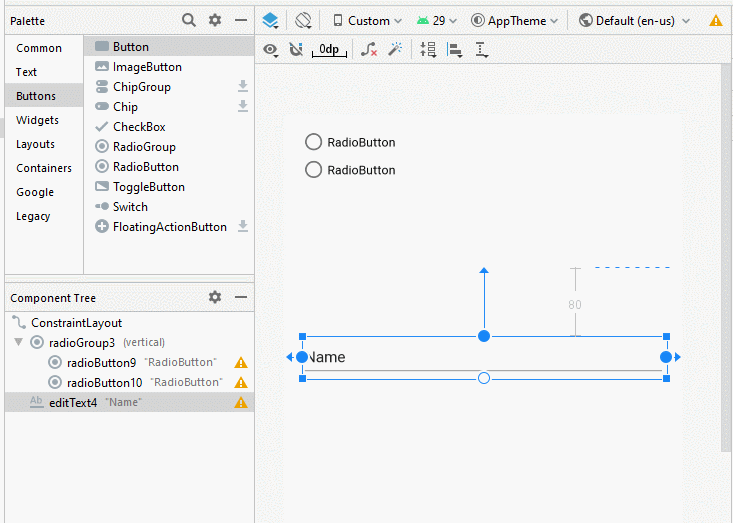 Set Layout for Button: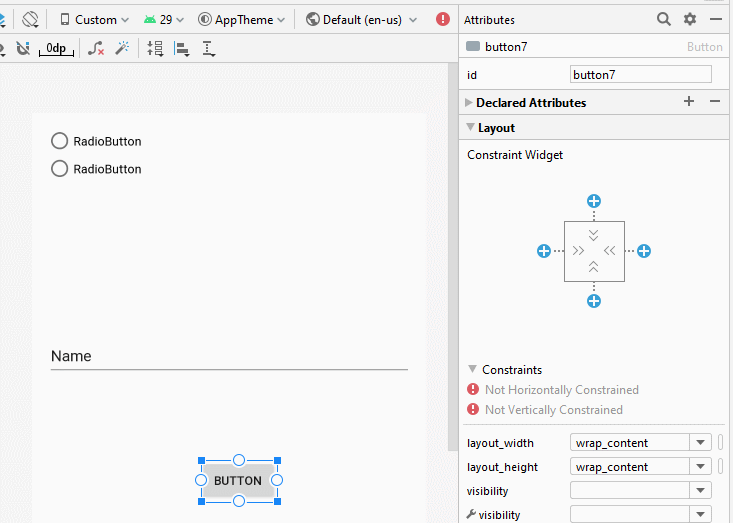 Change ID, Text for items on the interface: