JavaFX MenuButton and SplitMenuButton Tutorial with Examples
Websites to learn foreign languages for free:
The MenuButton control is a button that, when clicked, does not perform any action other than show/hide a menu containing menu items. For this reason, unlike the normal JavaFX Button control, there is no action property that you can define.
MenuButton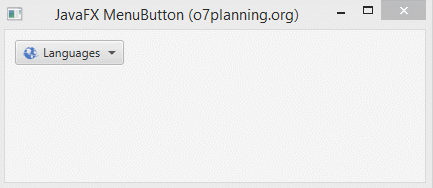 When users click on MenuButton, a menu will be displayed, the menu's Items can be MunuItem, CheckMenuItem, RadioMenuItem or SeparatorMenuItem. And you can handle events when users click on the items, basically there is no difference between MenuButton and a normal Menu.
SplitMenuButton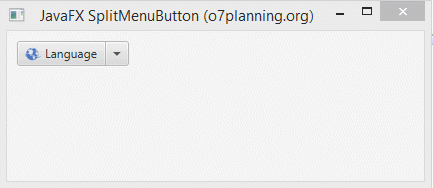 MenuButton vs SplitMenuButton.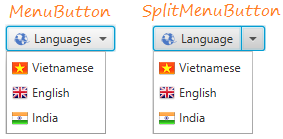 SplitMenuButton very similar to a MenuButton, and it is the same as a Button, it allows you to mount an action when the user clicks on the left. Note SplitMenuButton divided into two parts left and right. When the user clicks on the left it act like a Button, when users click on the right side it acts like a MenuButton.

MenuButtonDem.java

package org.o7planning.javafx.menubutton;

import java.io.InputStream;

import javafx.application.Application;
import javafx.geometry.Insets;
import javafx.scene.Scene;
import javafx.scene.control.MenuButton;
import javafx.scene.control.MenuItem;
import javafx.scene.image.Image;
import javafx.scene.image.ImageView;
import javafx.scene.layout.FlowPane;
import javafx.stage.Stage;

public class MenuButtonDemo extends Application {

   // resourcePath: "/org/o7planning/javafx/icon/flag-vi.png"
   private ImageView getIcon(String resourcePath) {
       InputStream input //
               = this.getClass().getResourceAsStream(resourcePath);
       Image image = new Image(input);
       return new ImageView(image);
   }

   @Override
   public void start(Stage primaryStage) throws Exception {

       ImageView imageViewVI = this.getIcon("/org/o7planning/javafx/icon/flag-vi.png");
       ImageView imageViewEN = this.getIcon("/org/o7planning/javafx/icon/flag-en.png");
       ImageView imageViewIN = this.getIcon("/org/o7planning/javafx/icon/flag-in.png");

       // Create MenuItems
       MenuItem menuItemVI = new MenuItem("Vietnamese", imageViewVI);
       MenuItem menuItemEN = new MenuItem("English", imageViewEN);
       MenuItem menuItemIN = new MenuItem("India", imageViewIN);

       ImageView imageViewLang = this.getIcon("/org/o7planning/javafx/icon/language.png");

       // Create a MenuButton with Text & Icon & 3 Items
       MenuButton menuButton = new MenuButton("Languages", imageViewLang, //
               menuItemVI, menuItemEN, menuItemIN);

       FlowPane root = new FlowPane();
       root.setPadding(new Insets(10));
       root.setVgap(5);
       root.setHgap(5);

       root.getChildren().addAll(menuButton);

       Scene scene = new Scene(root, 320, 150);

       primaryStage.setTitle("JavaFX MenuButton (o7planning.org)");
       primaryStage.setScene(scene);
       primaryStage.show();
   }

   public static void main(String[] args) {
       Application.launch(args);
   }

}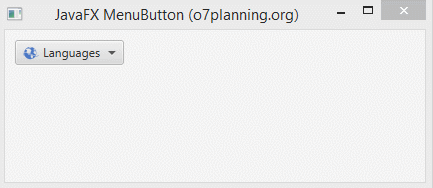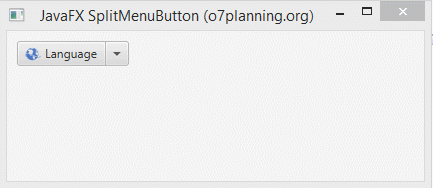 SplitMenuButtonDemo.java

package org.o7planning.javafx.menubutton;

import java.io.InputStream;

import javafx.application.Application;
import javafx.event.ActionEvent;
import javafx.event.EventHandler;
import javafx.geometry.Insets;
import javafx.scene.Scene;
import javafx.scene.control.Label;
import javafx.scene.control.MenuItem;
import javafx.scene.control.SplitMenuButton;
import javafx.scene.image.Image;
import javafx.scene.image.ImageView;
import javafx.scene.layout.FlowPane;
import javafx.stage.Stage;

public class SplitMenuButtonDemo extends Application {

    private int count = 1;

    // resourcePath: "/org/o7planning/javafx/icon/flag-vi.png"
    private ImageView getIcon(String resourcePath) {
        InputStream input //
                = this.getClass().getResourceAsStream(resourcePath);
        Image image = new Image(input);
        return new ImageView(image);
    }

    @Override
    public void start(Stage primaryStage) throws Exception {

        Label label = new Label();

        ImageView imageViewVI = this.getIcon("/org/o7planning/javafx/icon/flag-vi.png");
        ImageView imageViewEN = this.getIcon("/org/o7planning/javafx/icon/flag-en.png");
        ImageView imageViewIN = this.getIcon("/org/o7planning/javafx/icon/flag-in.png");

        // Create MenuItems
        MenuItem menuItemVI = new MenuItem("Vietnamese", imageViewVI);
        MenuItem menuItemEN = new MenuItem("English", imageViewEN);
        MenuItem menuItemIN = new MenuItem("India", imageViewIN);

        ImageView imageViewLang = this.getIcon("/org/o7planning/javafx/icon/language.png");

        // Create a MenuButton with 3 Items
        SplitMenuButton splitMenuButton = new SplitMenuButton(menuItemVI, menuItemEN, menuItemIN);

        splitMenuButton.setText("Language");
        splitMenuButton.setGraphic(imageViewLang);

        // Handling when the user clicks on the left side of SplitMenuButton.
        splitMenuButton.setOnAction(new EventHandler<ActionEvent>() {

            @Override
            public void handle(ActionEvent event) {
                label.setText("Clicked " + count++);
            }
        });

        FlowPane root = new FlowPane();
        root.setPadding(new Insets(10));
        root.setVgap(5);
        root.setHgap(5);

        root.getChildren().addAll(splitMenuButton, label);

        Scene scene = new Scene(root, 320, 150);

        primaryStage.setTitle("JavaFX SplitMenuButton (o7planning.org)");
        primaryStage.setScene(scene);
        primaryStage.show();
    }

    public static void main(String[] args) {
        Application.launch(args);
    }

}