Java SWT Scale Tutorial with Examples
Websites to learn foreign languages for free:
SWT Scale is interface component which allows the user to select a numeric value in a set of continuous ones.
Below is 2 Scales including the vertical scale and the horizontal one.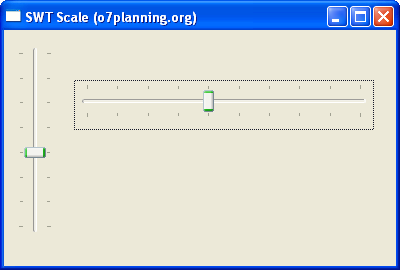 SWT Scale contains ticks marking its continuous value. These ticks are equally spaced.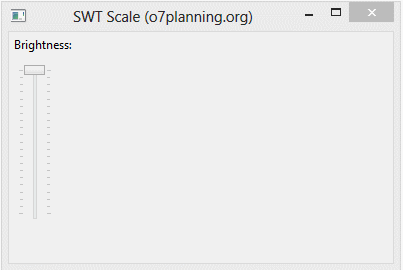 ScaleDemo.java

package org.o7planning.swt.scale;

import org.eclipse.swt.SWT;
import org.eclipse.swt.events.SelectionAdapter;
import org.eclipse.swt.events.SelectionEvent;
import org.eclipse.swt.layout.GridData;
import org.eclipse.swt.layout.GridLayout;
import org.eclipse.swt.widgets.Display;
import org.eclipse.swt.widgets.Label;
import org.eclipse.swt.widgets.Scale;
import org.eclipse.swt.widgets.Shell;

public class ScaleDemo {
    public ScaleDemo() {
        Display display = new Display();
        Shell shell = new Shell(display);
        shell.setText("SWT Scale (o7planning.org)");
        shell.setSize(400, 270);

        shell.setLayout(new GridLayout(1, true));

        Label label = new Label(shell, SWT.NULL);
        label.setText("Brightness:"); 
        // Scale
        Scale scale = new Scale(shell, SWT.VERTICAL);
        scale.setMaximum(100);
        scale.setMinimum(0);
        scale.setIncrement(1);
        scale.setPageIncrement(5);
        // Info
        Label labelInfo = new Label(shell, SWT.NONE | SWT.CENTER);
        GridData gd = new GridData(40, SWT.DEFAULT); 
        labelInfo.setLayoutData(gd);

        // Event
        scale.addSelectionListener(new SelectionAdapter() {
            @Override
            public void widgetSelected(SelectionEvent e) {
                int value = scale.getMaximum() - scale.getSelection() + scale.getMinimum();
                labelInfo.setText("" + value);
            }
        });
        shell.open();
        while (!shell.isDisposed()) {
            if (!display.readAndDispatch()) {
                display.sleep();
            }
        }
        display.dispose();
    }
    public static void main(String[] args) {
        new ScaleDemo();
    }
}